August 22-25 in Burlington Vermont
Our deepest human relationships ask a lot of us. We must meet our partner with honesty and humility, physically, mentally and emotionally.  We must accept both our own imperfection and theirs. To do so exposes our deepest vulnerability. When we can muster the courage, take this risk, for ourselves and with our beloved, we may experience a profound deepening of our well-being and sense of fulfillment. We grow closer to our real selves, we grow closer to spiritual fusion – we grow closer to God.
In this 4-day workshop, our hope is that each of us will —
Deepen our understanding of what we bring to relationships, from wounds of the soul and of childhood, and the unconscious choices and beliefs that follow. We will hold them with compassion and re-align them with real love and connection.
Experience the truth that we are designed to reach out to another and to a greater consciousness than our own; that we are designed to love.
This workshop is open to individuals and couples familiar with Pathwork. Interviews may be required.
To Register online: https://pathworkvermont.org/workshops
For more information, if you have questions, and/or to receive a registration form, contact Jeannie at awakeningheartvt@gmail.com or 802-793-1552 – Deadline is August 12th.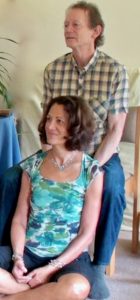 Wendy Hubbard – has been practicing the Pathwork for 21 years. She is currently a Helper in the Mid-Atlantic Region. She is also trained in Hellinger Family Constellation Work, and Somatic Experience Attachment and Trauma Work.
Tom Hubbard became a Pathwork Helper in 2003 following ten years of intense Pathwork study. He has taught Pathwork at every level, from the first year of the Transformation Program to Helper Training. Tom has had careers in social services and business.
Wendy and Tom's marriage has thrived as a result of Pathwork study and practice. They are now passionate in helping people find meaning in the patterns that arise in them in relationship, finding their way to joyful connection emotionally, physically, mentally and spiritually.