What is unique about Trauma work and Pathwork® Combined?
In the early stages of Pathwork® we find the real trauma we experienced as a child.  It can be a traumatic environment of not being seen, discounted for our individuality, general negativity with a lack of responsibility and repair opportunities. Or it can be very traumatic experiences where the people who were supposed to love us actually hurt us.  As young children  we have only two tools.  We either make our selves bad (shame) or make the other bad (blame). We are unable to see the world in any other terms. Typically because we need and depend on the people around us we believe we are bad.  This belief can be very unconscious yet informs most of our adult tasks and experiences.  The felt sense experience of 'I feel bad' gets translated into 'I am bad'.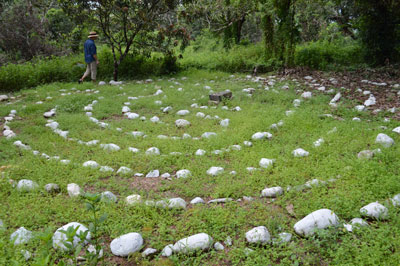 Excavating these places and learning to see the world and ourselves in different terms is a long-term process.It is important to unearth our histories and the reality of how they affected our bodies and psyches.  It is also important to understand and respect how we adapted to this difficult environments with quite elegant strategies given our young ages.   And it is very important to move on to challenge these patterns of defense and beliefs that now cause more harm than good.
Then we are ready to see how some of these negative environmental influences have crept under our own skins, how we now duplicate the negativity as part of our own coping  strategies.  As we embrace with support and love the way in which we have turned from the victim into the perpetrator with our own defenses, vowing to never be hurt or vulnerable again then the healing begins.  We begin to move from the hard pain of blaming ourselves or others  to the soft pain of our feelings and those feelings can actually move and release.
This is our true vulnerability and until we can fully meet it we cannot  give ourselves true acceptance and compassion.
At this level there is such self-empowerment and true self-knowledge.  How can anyone shame you when you know yourself through and through?  You have already been there and owned your deepest self, your darkest strategies with love.  You are FREE.