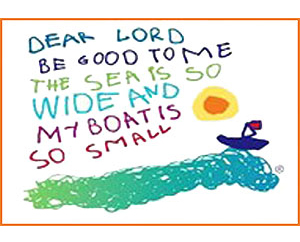 Actually my boat is relatively small, even though I was told as a child that I should not be afraid of anything because my mother was afraid of everything.  I felt like an adult from the day I was born.  I honestly believed that some of us are born full grown.  We are the special ones, we know to keep our napkins in our laps, to use big words and how to shadow all the grown ups in our lives to be really helpful.  'Mother's little helper' was the grandest of praise!  Me along side my mother baking eight kinds of Christmas cookies—all to perfection—until my mother's 'back' gave out and sent her to bed, never to recover. Instead, she would  die eighteen months later.  I never made the connection between her death and her perfectionism until  now.  How driven she was to always 'look' so good to the outside world, many times at my expense.  My father and I got used to staying clear of her right before a dinner party when she was entertaining.  A tantrum would ensue with slamming doors and fits of hysteria at one or the other of us. Her little helper was watching, and learning.
Stretching to be as perfect as possible glorified the OCD in our household and I adopted the idea that love equals perfection.  This left me too exhausted to actually be very present to my life or the people around me.
When a feeling of emptiness ensued, I was sure the cure was more perfection and more activity.  When I went to college I chose a major that would please my new step mother.  When my husband and I started a business together, I became the salesperson, never really asking myself, "Do I want to be a salesperson?"  Instead, I flew into the job head first and was renowned for being able to squeeze in the most customer presentations in one day or week.  When or if I had time to even eat on these days was uncertain, but I would make 'my numbers' and I thought this would bring me more love from my husband, and approval from the world.
Each of us, especially  those who experience trauma at a young age, find developmental coping strategies.  I have noticed these three tendencies.  These are uncomfortable yet familiar and all push us out of our window of tolerance.
Dan Siegel coined this term "Window of Tolerance".  The concept suggests that we have an optimal arousal level when we are within the window of tolerance that allows for the ups and downs of emotions experienced by human beings. We may experience hurt, anxiety, pain, and anger that brings us close to the edges of the window of tolerance but generally we are able to utilize strategies to keep us within this window. Similarly we may feel exhausted, sad, or shut down, but we generally are able to shift out of this.
Below is a diagram demonstrating the ebb and flow of an optimally regulated nervous system.
"When we experience adversity through trauma and unmet attachment needs this can drastically disrupt our nervous system. Our senses are heightened and our experiences and reactions are typically intensified and strategies are less readily accessible to us.  Adverse experiences also shrink our window of tolerance meaning we have less capacity to ebb and flow and a greater tendency to become overwhelmed more quickly. Learning how to track and shift our affect can be a powerful tool for promoting regulation and integration throughout the brains, body, and mind". (From Dan Siegel)
There is the hyper, over-the-top strategy of dis-regulation which creates over-achievers like me.  These people push themselves beyond their limits so habitually that it feels normal.  There is a constant mantra like a drum beat that says, "you are not enough, you are not ok".  These people feel that they must do more and more to somehow compensate for this terrible flaw in themselves.  All of these strategies carry deeply held, often unconscious beliefs like, 'I will miss out on something so important if I don't go into overdrive', and, the worst, 'you will leave me'.  As children we may have felt  we were not really wanted or our parents expected too much of us.  This became my 'normal', to always be ahead of  where I actually am.
The second tendency is a habitual hypo, under-energized response.  These people can struggle with depression and lack of interest or follow through in their lives.  They may have a similar mantra going on in their heads of not enough-ness but they have developed a different strategy.  They wanted to stay out of trouble, perhaps from a very critical parent by trying to stay below the radar, to literally disappear.  This would require shutting down their natural energy, holding their breath and making as little movement as possible.  They have decided, "if I stay really still and small, I will be safe."
The third tendency swings from high to low.  These people burn the candle, so to speak, on both ends.  They go into a frenzy of activity one moment and then a full collapse in another moment.   They vacillate between full on and full off.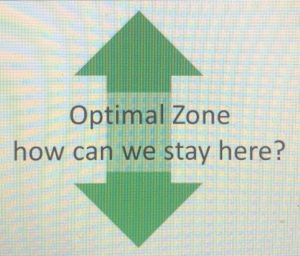 Each of these three different strategies needs different things to begin to reclaim their true windows of tolerance.  It is possible and it takes conscious work to override a lifetime of an energetic pattern.  For the hyper person who is always above and beyond their window of tolerance, they need to begin to feel their enough-ness in a regulated state.  They need to slow down, risk the terror that something bad will happen and notice all is well when they are comfortable and operating inside their window of tolerance, their true limitations and energy.  For the hypo person they need to move more and risk getting bigger in their lives.  And also notice that it is safe to do this.  Obviously the third type person needs to do both.
What does it mean to be 'in' your window of tolerance?  What does it feel like?  We have all had days where life felt relatively effortless and everything just seemed to flow.  This is what being in your own window of tolerance feels like.  It feels so good and natural.  Like the picture below, you are light on your feet and surrounded by all the colors and joy of life.  Or it can also feel like you are fully feeling your pain and loss and it is moving through you as if by magic as you allow it and stay close to yourself and your own needs.  When you stay connected to your actual energy system and honor it, your window of tolerance naturally expands.  So we cannot push or pull it open or closed but by staying within our own comfort zones we naturally grow and expand.  How perfect is that!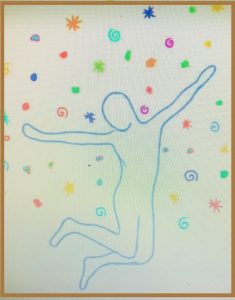 This requires us to face squarely our own limitations and the obstacles that life presents to us.  It no longer is dangerous to be big or small.  We can come into reality and it is safe.
Jon Kabat-Zinn gives us a glimpse of this feeling and encourages us to live more from a place of wholeness at the end of his body scan meditation: "…Feeling complete and whole as we are in touch with our essential completeness a realm in which our limitations are not confining a realm of oneness ,silence, stillness and peace.  Open to things just as they are in each moment and seeing that this attitude and stillness itself is healing and allowing the world to be as it is beyond our personal fears and concern beyond the tendencies of the mind to want things to be a certain way and seeing ourselves complete right now as we are.  Experiencing the fullness of our ability to love and care and experiencing being totally awake right now…"
Truly we all are rather small when it comes to meeting the suffering and adversity that life presents to us.  We can reach out to God for help and/or be Godlike and compassionate to our selves.