切ない (Setsunai): When You Need a Word to Hold Both Sorrow and Joy
My last blog post was back in March. Tom and I had begun an intensive teaching assignment with the Pathwork In Japan. On July 2nd we completed our last teaching module.  It was very rewarding and also challenging,  always wondering what might be lost in translation.
I am now back to writing and it seems fitting that I would begin a new blog with a uniquely Japanese concept discussed in the New York Times and passed along to me by a dear friend. It is one of those wonderful words in another language with no counterpart in English. The word is Setsunai.
Setsunai implies something once bright, now faded. It is the painful twinge at the edge of a memory, the joy in the knowledge that everything is temporary. Perhaps, then implicit in setsunai is the way the passage of time eventually draws a thin line of blood, of pain, across even the roundest, fullest happiness.
I have noticed lately that most people I work with hate sadness. They will do anything rather than feel it.  I honor this fear.  Sadness can be a bellwether for depression and depression is scary.  But sadness is not depression. Sadness is a feeling and depression is a numbness.  When I invite myself and others into sadness it always holds a warmth that expands and begins to actually feel quite good!
Many spiritual paths, including Pathwork, teach that you cannot selectively block your feelings. That if you reject sadness you must also reject joy.  You can feel this in the word setsunai.  In this word the sadness is coupled with the memory of such joy. Buddhists elevate the temporary nature of our existence to a spiritual path.  At times in my life I have had trouble following this spiritual direction. As I age and emerge from the pandemic where so much has been lost it is getting easier to hold the joy and sadness and the temporary nature of life.
Tom and I had a stark experience of this over the past few days. Tom built a wooden row boat several years ago. It is old fashioned, beautiful and named after his beloved grandmother and spiritual teacher, Flora. Best of all it floats!  He made this boat to reclaim a memory of his youth when he rowed old wooden boats along the coast of southern Italy, and it evokes the memory of his grandmother Flora, whose grit and love shaped him in the best of ways.
We take the boat to a nearby bay to row on calm, clear days. The fun begins at the boat ramp. There are inevitably comments from people in awe of the romantic beauty of the wooden boat which stands out among all the the motor boats, plastic kayaks and jet skis. This Saturday night there was a younger crowd and no one seemed to pay us much attention.
We love to row to a beach on a secluded edge of a state park and this time we packed a picnic dinner and settled in to watch the sunset. As we watched the sun go down a large group of kayakers made their way across the bay.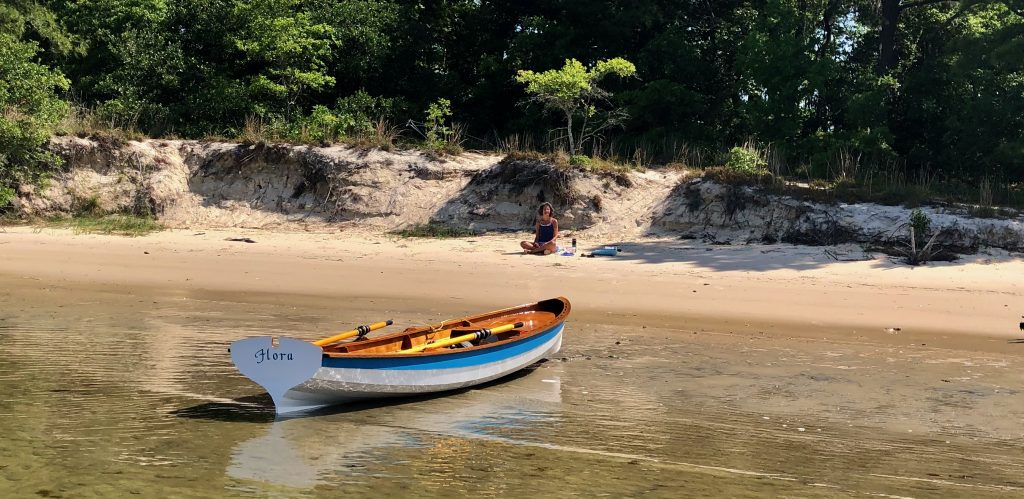 We rowed back as darkness loomed and at the dock we encountered the leader of the kayaking expedition.  He was loading all the kayaks into a trailer.  "Hey", he said, "you two look like you are straight out of the movie The Notebook."  We had never watched this movie when it came out in 2004.  We went home and watched it that night.  (A movie spoiler is coming next.)
The movie is the story of an improbable but passionate romance, a girl from a wealthy family in love with a boy who works in a sawmill. The story is told by the couple in old age, with him reading the story that she has written in a notebook as she began to loose her memory to dementia. "Read this to me," she says, "and I'll remember." He reads to her as she lies looking blankly from her bed in the nursing home. As he reads to her, little windows of her memory open briefly and then close again and then she does not know him and is very agitated and confused.  He is living for these brief moments of joy and connection amidst so much loss and pain.  In one lucid moment she asks if their love is strong enough, magical enough that death may take them together.  They lay down and die together.
For Tom and me, this was a moment of setsunai.  We have been together for forty-five years, and much of what was once bright is now faded. There is a painful twinge, the joy and sorrow in the knowledge that everything is temporary. The improbable fantasy of the film, the elderly couple leaving life together in each others' arms, is not likely for most of us. More likely, someone will be alone and grieving. That night, we held each other and wept a big slobbery mess of feelings — setsunai.