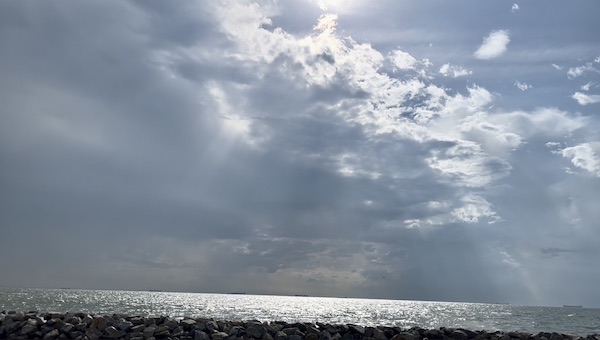 I get very excited when I watch a weather system move in across the sky.  Here on the Bay I watched one the other day.  It was bright and sunny on one end of the beach and ominous black clouds build up on the other end, moving across the sky towards me.  I felt energized and excited.  I remember a time sitting at a winery with my then five-year-old grandson. He is drinking "the best lemonade he ever had," and I am drinking a glass of Chardonnay and we are both equally excited watching the weather move in across the mountains.  It looks dramatic and in minutes we are forced inside by the gale.
Why does this simple movement of weather invigorate me so?  I sit with this question as I watch the storm begin to scatter rain around me.  And the answer is simple.  It is a rare and wonderful privilege to witness cause and effect.  So often we wake up in the morning and experience the weather we are having.  We are 'in' the weather but we did not see the weather in the making.
This to me becomes a rich metaphor about life.  We are so often 'in' our lives but miss the causal elements.  How did I just fall and hurt myself?  Why am feeling out of sorts today?  Why did she get cancer, he a massive heart attack, when she/he was so healthy?  Why did the cancer return when she followed all the protocols?  How did we lose money on that investment when it seemed so sound?  How did I miss the red flags in that relationship? Why did I not see their true nature earlier?  I could go on and on, right?
Often in an attempt to attribute cause when we are at the effect of something unpleasant we turn on ourselves or to some kind of superstition. I was so clumsy, I have always been unlucky, I am stupid, gullible, etc. This is painful when I do it to myself and very painful to witness in friends and clients.
While training to be a trauma practitioner one teacher's favorite intervention was to say, "no wonder."  Given what happened to you as a child, no wonder you struggle with relationships, addiction, depression, anxiety, life in general.  Helping make those cause and effect connections can be very healing.  You struggle not because you are broken or something is inherently wrong with you but because anyone who lived through what you did would have difficulties navigating life. But the struggle itself has given you more heart, strength, wisdom, resilience, kindness and courage.  This can make life feel whole again.
I realize I am writing the plot of the Wizard of Oz — a storm moves in … life happens and Dorthy meets characters who help her acquire qualities she has been lacking and also plenty of life's problems.  She then hears about a scary Wizard who can solve all her problems. But she gets to see behind the curtain to see that the Wizard is an ordinary man operating machinery that projects him writ large and ghostly.  She gets to see cause and affect.
No wonder my first therapist had all the characters of the Wizard of Oz lined up on his book shelf!
The day the storm moved in I got a rare glimpse behind the curtain.  There are so many mysteries in life.  To simply be with the mystery (the disconnection between cause and effect) requires that we trust some bigger force or bigger context.  We have to trust a Wizard of sorts that is pulling strings we cannot see.  Faith and trust are so much better than attributing blame to ourselves or some eroneous force.  But they are harder to muster.  That is why watching this storm move in is such a privilege.