This phrase comes to me on a walk to the river.  Why is it so comforting?
"My wanting has no end."
The first thing I notice is there is no judgment attached to it. If I say it this way, "there is no end to my wanting," I hear judgment.   Judgments I have heard my whole life — "You are a bottomless pit and you are too needy." I feel the familiar shame of my needs and wants. And almost before I feel this I feel an even more familiar litany of anger at all those who deny me. To be honest this "why haven't you, why didn't you?" plays in my head for a great majority of every day in a constant stream of turmoil and unrest.
Today I hear "my wanting has no end." And I hear how pure and true it is.  Naming it relaxes me. I keep repeating it over and over again as I walk. And I see my wanting as twisty, floppy pipes with big gaping holes belching smoke  – a Dr. Seuss contraption. This visual is comforting too. I usually keep the wanting out of sight as I drive head long into my life.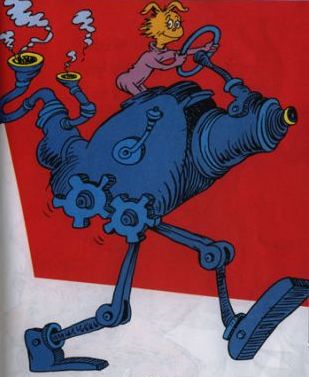 I know my wanting – this wanting that has no end is because I lost my parents when I was very young. I also know it is because I have no brothers or sisters – very little family.  I honestly have this wanting. I really lost what I needed and wanted.
All the 'getting' I have now in my life does not touch this wanting.  It is so young.
OR
Maybe 'getting' does touch it sometimes for a moment.
Last week I was hanging out with my grandson Cole. But he did not really want me to mess around with his Lego trains. Happily humming a song he was enjoying himself. So I went to the next room and folding laundry, humming the same song.  Suddenly I felt sheer bliss. My pipes with the holes on the end connected for a moment to him.
My wanting is hard to feel. I small part of me is afraid I will literally fall into it, as if it is a bottomless pit. It also aches and it feels terrifying to be alone and wanting. So I make up my imaginary foes. Those who "should of  done what I wanted."  They are actually keeping me company. But it is an angry, unhappy companionship.
Instead, I will try and remember to choose the companionship of my wanting that has no end.
And with a deep breath, the two of  us continue walking to the river together.