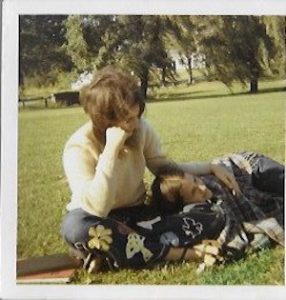 "We sail and we sail together.
The name of our ship is the new beginning
and our sails are a hopeful color.
Filled with the winds of changing times.
We sail and sea around us waves.
And it swells as a great heart beating.
All the storms of night are passing.
How can we sink when we can fly?"
From the cover of my leadership camp's handbook 1971
"When you are 15, or thereabouts, you love the art you love more passionately than you will ever love art again.  Around that time your sense of taste has only just recently come into being. ….. You have been transformed from a kid… to a young adult with an 'aesthetic'."
—From Jonah Weiner Rage Against the Machine, New York Times Magazine
In the summers when I was 16 and 17 I was sent, by scholarship, to a leadership camp in Upstate New York.  By day, we did social action, building a playground for migrant worker children and by night we discussed the deep questions of religion and spirituality.  On weekends we would clean up and dress in all white and sing and dance our hearts out.  This was my art, my aesthetic.  I fell in love.  Looking back 49 years later, I am sure that my fellow campers and what we created together saved my life.
Recently one of my best friends from camp found me on Facebook.  She then posted this picture from 1972 of the two of us sitting on the grass near our beloved pond – my head in her lap.  As I gaze at that photo, I know that is still me.  I love intimate contact, and thrive on the meaningful conversation.  We had many that summer about love, life and God..
I lost touch with everyone from that time in my life. There is not much continuity in my life in general. From studying trauma, I understand now.  Trauma is very isolating.  My mother had died a year earlier when I was 15.  I fully absorbed all the love, belonging and even redemption I could those summers, but I had no idea how to stay connected. I was connected but also alone, floating in a very remote sea of sorrow.  For me the storms did not begin to pass until I was 40.
At 40 I had left my husband and moved 3000 miles away to California.  My aloneness was no longer my internal condition but an external one as well.  Roaming a book store/coffee shop early one morning before my first business appointment – a book jumped off the shelf. It was Motherless Daughters by ­­­­­­­­­­­Hope Edelman. The author had written the book because when she lost her mother she couldn't find anywhere to turn.   She hoped it would help others to interview girls and women who had lost their mothers.  She found we all share a common trajectory as we try to transverse our lives without our mothers.
I began to grieve and by the time I finished the book and got to the resources list I could not stop crying.  I called the therapist she recommended, barely able to speak, choking out the name of the book. I remember this kind woman saying, "I know, I know".
She was miraculously close to where I lived, and I saw her for several years.  She would ask me about a feeling, and I would tell her a story.  I still do this sometimes, but slowly I began to unpack what had really happened to me.  The sudden loss of my mother and the betrayal by my father.  An only child alone. It is still a lot to feel.
Back to the summer camp, we were leaders from all over the Mid-Atlantic states.  After camp we began treks to visit each other in beat-up second-hand cars from Wilmington Delaware, to Wilmington, North Carolina.  We scarcely lived between these visits.  We all met in DC and marched in the protest against the Vietnam War.  We were serious kids and we loved each other seriously.  At summer's end we would form a large circle back out on the lawn and sing "Leaving on a Jet Plane".  One camper writes all these years later, "I cried for three weeks after that."
What will I find out about myself as I renew these friendships and we 'catch up' after all these years?   Maturity seems to require of us to disavow things we believed and loved in our youth.  It is hard to live in the world for 65 years and be as virtuous as I believed I was at 16.   Yet my passion for love, for deep spiritual quest and for friendship is the same.