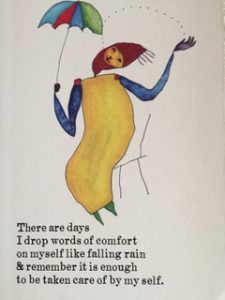 Walking on the beach yesterday — a beach that is officially closed except for exercise — I started to let in the fact that our summer is essentially cancelled.  Each event was cancelled one at a time and there was a feeling of loss, or sometimes relief. But now there is the empty beach and the empty summer stretched out in front of me for miles.  My mind went to all kinds of conclusions.  First, that I should not feel sad because I have so much to be grateful for, second that we could stay a shorter time here and then go home and third that I was just feeling blah and would get over it.
I came back home and listened to a Tara Brach podcast I have been following Called Sheltering in Love.  She has been a teacher of the practice of RAIN meditation, a profound process of Recognizing a feeling, Allowing it, Intimately feeling it in the body, and then Nurturing it.  As I fought my feelings that arose when I felt the loss of our summer I had hoped for, we usually resist our feelings.  We do this by minimizing them to try and make them small or exaggerating them so they feel too big to handle or by trying to fix them. So naming them and allowing them is so different.  And then giving them space in our bodies and our own comfort — it is revolutionary.
Today, Tara varied a bit from RAIN.  She says she uses this mantra: "Come right up to the edge and then soften."  She is referring to coming right up to the edge of a difficult feeling and then softening instead of stiffening and deflecting as we usually do.  She leads us in a ten minute guided meditation and I use the difficult feeling of grief.  As I move to the very edge or edginess of grief, I feel much more grounded in my body.  I remembered this: grief is grounding.  I had discovered this before. The heaviness of grief lends us weight and gives us the feeling of substance.
Towards the end of the meditation we are invited to bring in a nurturing presence of our own or a nurturing person or spiritual entity.  I remember grace, and a special moment from the past.  Over ten years ago a close friend was visiting me from Israel.  She speaks Hebrew as her native language and is very proficient in English but she is pausing to translate each thought from one language to the other.  I am no help to the communication. I speak no Hebrew.  We are outdoors in the woods one day and she tells me she thinks I am very graceful…
At that moment I am sure that something has been lost in translation.  I have never thought of myself as graceful. I was never good at any sport, always too tall, too fat, too uncoordinated.  Being too tall, I took to stooping over and have poor posture.  I cannot think of a graceful thing about myself.  So I ask my friend to explain.  And she says, " the way you hold your grief is so graceful."  I am a person who experienced a good amount of loss and grief, all before I was 16 years old.  For years I tried to get rid of it or heal it.  Once, on a mountaintop, I created a ritual with a small fire and burned all my losses written on little pieces of paper and watched them curl in the fire and go up in smoke.  There, I thought now this is all behind me.  But it wasn't, and the loss and grief would come over me in unexpected moments.  When I watched a young girl shopping with her mother, or when I cooked and entertained, something my mother loved doing.  It was hard losing her when I had just turned 15.
I became impatient with myself.  I would rail against my mother (imagining she could still hear me) with an unquenchable question : "How could you leave me?"  I would summon her to give me a sign, any sign.  One day she did answer me.  She said that her death had nothing to do with me.  It was her own life's trajectory.  It settled the question but did not bring me much comfort.  Her words were matter of fact, like a reading of spiritual law — not warm or particularly loving.
I finally realized that transforming the grief, getting over it, or whatever, was not my actual task.  My task was to learn a way to live, and love, with the grief, and let it inform me, ground me, even console me. I learned this gradually, and it seems that my friend noticed.
Today I find the pairing of grief and grace again.  As I allow in the nurturing presence of grace my whole body feels animated, as if grief now has a substance and an aliveness.  It is a profound experience— allowing our feelings.  Lingering with the experience I realize that going through the grief did not produce joy as I may know it but something new all together.  Perhaps this feeling is true joy.  I invite the people I work with to feel their feelings all the time.  I am glad I did it for myself.